History
The name is said to have derived when a Scottish king's servant saved his master's life during a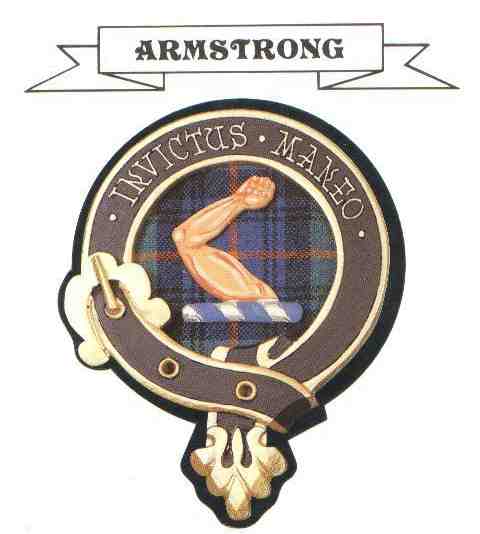 battle by lifting the king to his horse with his uninjured arm. The clan was given gifts of land in Liddesdale. The Armstrongs became the principal Border reiving clan during the 16th century, and spread from Liddesdale to Annandale and into the territory between England and Scotland, often fighting in areas near Carlisle, England. Johnny Armstrong and fifty others were hanged without a trial by James V in 1530.
Click here for a detailed history of the Armstrong Clan in the south. (Scots Connection Website)
Alexander Armstrong was born in Sutherlandshire.
Click here for a fine site on the history and people of Sutherlandshire. Maps and lists included.
There are many connections between the Armstrong and Thomson families in Sutherlandshire, including...
Christina ARMSTRONG (b.1831-Kildonan, Sutherlandshire, Scotland d.1906-Hamilton,Victoria)
sp: James THOMSON (b.1823-Clyne?,Sutherlandshire,Scotland m.1852 d.1910-Hamilton,Victoria)
Christina's brother, Alexander ARMSTRONG (b.1823-Kildonan,Sutherlandshire,Scotland d.1890-Warrambeen,Victoria)
sp: Barbara THOMSON (b.1821-Kildonan,Sutherlandshire,Scotland m.1851 d.1853-Warrambeen,Victoria)
Betsy SUTHERLAND, later Mrs. Alexander Armstrong (b.1837-Clyne,Sutherlandshire,Scotland d.1923-Armadale,Victoria,Australia)
sp: Thomas THOMSON (b.1836-Loth,Sutherlandshire,Scotland m.1854 d.1858-Sutherland's Creek, Victoria?)
Last updated: 11 May 2008